What gym equipment do you need for working out at home? As a personal trainer, I get asked this question a lot. So I made a list for you of the most useful items for any home gym.
I give you recommendations for small spaces, larger spaces, and different types of workouts. This overview of home gym equipment helped my clients, and I hope it helps you too.
Table of contents
Start with the basics
General checklist for home gym equipment
Workout equipment for small spaces
1 – Mat
2 – Resistance bands and tubes with handles
3 – Suspension trainers
4 – Dumbbells
5 – Kettlebells
6 – Sliders
7 – Sandbag
8 – Weighted Medicine Ball
9 – Step
10 – Jump rope
11 – Pull up bar
12 – Workout bench
13 – Smart mirror
Workout equipment for larger spaces
14 – Olympic Barbell and weight plates
15 – All-in-one/power rack/squat rack
16 – Rowing machine
17 – Exercise bike
18 – Treadmill
19 – Elliptical/Cross trainer
20 – Stair stepper
21 – Mini trampoline
22 – Punching bag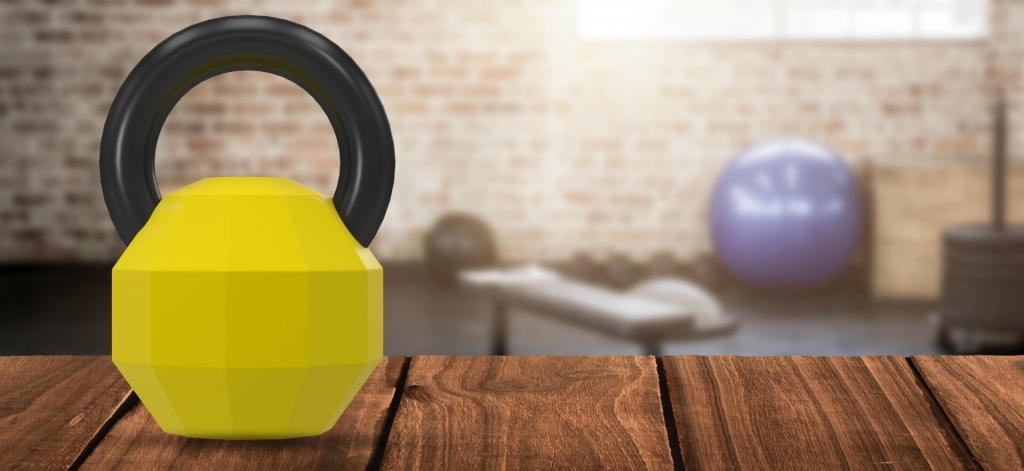 Start with the basics
Before anything else, my advice to you is: Start your home gym with a few basic items. I call these "home gym essentials". Because you can do a complete workout with your body weight and a few small pieces of equipment:
Mat
Resistance bands
Dumbbells
Kettlebell
Mirror to check your pose
Not everybody needs all the heavy stuff you see on home gym pictures or in your local gym. You can always add equipment later as you continue on your home gym journey.
Second, make sure you always focus on training in the right posture. Consult a personal trainer or physical therapist every time you start using a new piece of equipment.
Keep reading to find out what equipment you need for your home gym.
General checklist for home gym equipment
Before we dive in the different equipment for your home gym, here is a general checklist with criteria:
Purpose – For what purpose do you need the home gym equipment you are looking at? Will you actually use it? Will it support your goals, like weight loss, building strength, improving your condition, or a mix of those?

Size of your home gym space – Consider whether you have room for the equipment you are considering. Draw a floor plan of the available space and map out the equipment. Check out our 12 half garage gym ideas for inspiration.

If you will be working in your living room or study, pick portable equipment and decide where you will store it. 

These days, more and more manufacturers create all-in-one equipment for small areas. For example, the Technogym Kinesis and the Technogym 1 Unica. Also, there are the so-called Smart Mirrors, which help you exercise more.

Quality and Safety – Always check whether the equipment is reliable and safe to use. Be careful with cheaper products from unknown brands. Read reviews and also check Facebook groups. Especially watch out for wobbly benches and weak pulleys.

Know how to use the equipment – Make sure you know how to use the equipment in the right way. Does it come with instructions, or can you hire a trainer to help you? Always be careful with your body.
Workout equipment for small spaces
1. Mat
I used to have a thin, cheap exercise mat with holes and cracks in it. I never gave it much thought until the pandemic hit and my personal training clients came to my house.
I invested in some good mats and never felt sorry. I found that working on a good mat empowers me. That's why I advise you to invest in a good quality mat.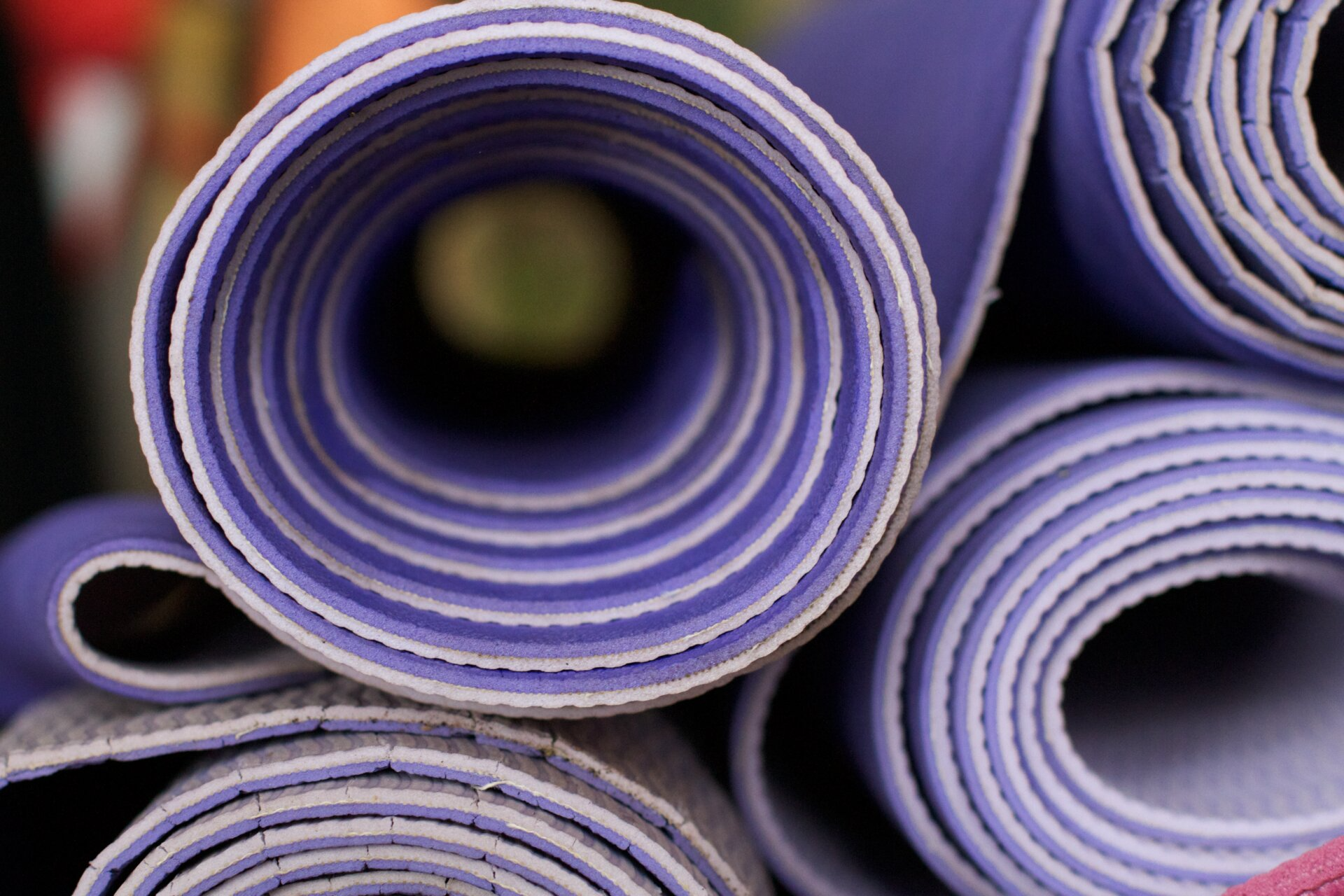 What to look for in a good exercise mat?
Find a mat that can absorb the impact caused by heavy weights. This will prevent your joints from being hurt or injured as you perform your routine.
Look for a mat longer than your body. This will allow you to spread out your legs and arms freely as you perform the routine, without being cramped up in a small space.
Find a mat that is non-slip.
What is the best material for a gym mat?
Natural Rubber
Many exercise mats are made of natural rubber. They are soft enough to make the workout comfortable for many users. They give a good grip, and they tend to last reasonably well (a few thousand hours) before showing signs of wear. Look for a mat produced in an eco-friendly way.
A disadvantage of a rubber mat is the "rubber-smell". Some people are also allergic to rubber.
These days, you can also find mats made of thermoplastic elastomers (TPE), sometimes referred to as thermoplastic rubbers. This material is more flexible than rubber [1], and has a longer life than rubber mats. TPE Mats are lightweight and can be produced in an eco-friendly way.
Your mat checklist:
Length: at least the length of your body
Thickness: at least half an inch
Material: rubber or TPE, or a combination of those. These days I have a mat with a polyurethane top layer and a natural rubber base.
2. Resistance Bands and Tubes with handles
Resistance bands are another home gym essential. According to a study at Univar University in Brazil, resistance bands can have a similar effect on muscular strength as conventional resistance training [2]. That is also my own finding with my clients.
Resistance bands come in many tension levels, and you can use them for many exercises. When I go on vacation, I always carry my resistance bands with me.
What to look for in good resistance bands and tubes?
Most suppliers offer a resistance bands package with different color coded bands according to their tension level. Every brand has its own color coding system and related weights.
In general, most manufacturers apply these colors (but not always)
Yellow, orange, red: light, for beginners or for smaller muscle groups
Green, blue: medium
Black, silver, gold: heavier
Every brand has its own colors and weights. To give you an idea, Rogue provides this table:
Tubes
A variation on the circular resistance bands are the tubes with handles. These also come in sets, with different colors/weights, and extras like a door clam.
Look for the best quality tubes and resistance bands you can get, for your own safety and the best workout experience. I think this will pay off. Resistance bands are relatively cheap compared to other gym equipment.
Your Resistance Bands checklist:
Set of circular bands, in different colors/weights.
Set of tubes with handles in different colors/weights.
Quality is important to keep the stretch and train safely.
Check out consumer opinions on resistance bands.
3. Suspension Trainers
Suspension Trainers like the TRX are one of my favorites. With Suspension Trainers, you can train your whole body. No matter how strong or how weak you are. You will never get bored, because there are so many exercises with the Suspension Trainers. You can easily take it with you while traveling.
Research shows you train more of your core abdominal muscles with the suspension trainers than, for example, with the plank [3].
You need a place to fix the suspension trainers safely. If you have a ceiling of at least 9 feet and a way to fix a hook in the ceiling, this could be the main item in your home gym. Because there are so many exercises you can do.
Some suspension trainers can also be anchored to a door or wall.
Another option would be to use the suspension trainers outdoors. For example, on a tree or attached to playground equipment.
Your Suspension Trainers checklist
Weight capacity: at least your body weight
Anchoring options:

Ceiling
Door
Attach to a rod

Adjustable bands
Quality of handles
Ease of use:

Adjusting the length
Having two even sides

Check the reviews: especially with suspension trainers, the details are important. Like the ease of adjusting, the ease of having two even sides, the way the buckles are placed (and hurt your arm for example), etc.
If possible for your budget, we recommend buying the best suspension trainers you can get. Because the endurance of the material is important.
4. Dumbbells
There are 3 types of dumbbells, which I will discuss below. The following applies to all dumbbells:
Pay attention to grip and decide how important this is to you. If you wear gloves, then this might not be an issue. Vinyl coated weights slip easily.
Pay attention to the quality. Vinyl coated dumbbells are more likely to get damaged. Cheaper plate loaded weights with a spin-lock will rattle easily.
Think about how you will put away the dumbbells and how much space you have.
Check what fits in your budget. The cheapest weights can still do the job.
3 types of dumbbells
Fixed weights.

Pro

Easy to use. Just pick them up and do your reps. No hassle with changing plates.
Durable, because they have no moving parts
Relatively cheap
Available in heavy weights

Con

You need several sets. They take up more space than the other options.

Plate-Loaded Adjustable Dumbbells
You can adjust the weights by adding plates. These dumbbells basically come in two versions, depending on the lock:

Spin-Lock

Pro

Relatively cheap
Different weights at your disposal
Take up less space than separate dumbbells

Con

The spin-lock adjustable dumbbells are the cheapest. The lock might come loose during your workout. That makes the plate shift a little every time you move the dumbbell. Not a big issue, but it might be annoying.

Collar lock

Pro

Change plates quicker than with spin-lock

Con

Pricier that spin-lock dumbbells

Quick-Lock or Smart Adjustable Dumbbells

Smart dumbbells have a mechanism to quickly change weights. Either by clicking buttons or turning a wheel. You can change weights a lot quicker than with the spin-lock.

Pro:

5 weights in one: 5, 10, 15, 20, 25 lbs
Change weights quickly
Take up the least amount of space

Con

Vulnerable because of the mechanics inside
Your Dumbell checklist:
What weights do you need? For average use, I would recommend 5, 10, 15, 20 and 25 lbs.
How much space do you have to store the dumbbells?
What are your requirements for grip?
What is your budget?
Related articles:
Smart Weights
5. Kettlebells
I still remember the day when kettlebells turned up in the gyms. They might have been there forever, but suddenly everybody did kettlebell swings. These days, a kettlebell is a regular training item. I consider it a must have for your home gym.
Cori Lefkowith from Redefining Strength explains kettlebell training well and demonstrates exercises.
Types of kettlebells
Vinyl Coated Kettlebells

Pro
Con

Slippery: not suitable for kettlebell swings
Oval shaped handle might not work for all exercises and hurt your wrist.

Adjustable Kettl ebells

Pro

5-in-one
Saves spaces
Budget friendly

Con

You can not quickly alternate between different kettlebell weights, having to change the weight takes time.
Less durable
Max 40 lbs
Cast Iron Kettlebells

Pro

Better grip than vinyl coated kettlebells
Durable

Con

More expensive than vinyl coated kettlebells.

Kettlebells you can fill with sand or water

Pro

Easy for transportation, or to take with you on a beach holiday

Con

More vulnerable than iron kettlebells
Your Kettlebell checklist
What kettlebell weights do you need? For average use, I would recommend 15 and 25 for women and 25 and 35 lbs for men.
How much space do you have to store the kettlebells? If you have a small room, consider an adjustable kettlebell
What are your requirements for grip? Avoid vinyl grip
What is your budget?
6. Sliders
Sliders are another must have for your home gym. These small disks make functional body exercises more challenging. In Women's Health Magazine you find 19 Slider Exercises.
What to look for in sliders:
On what floor will you use the sliders:

Carpet: plastic sliders
Wood or tiles: sliders made of felt, foam or fabric.
Any hard surface: gliders with wheels

Alternative: Slider Mat
7. Sandbag
Sandbags are great workout tools, because their shape shifts while using them. Therefore, you activate more muscles to keep the bag stable. Sandbags are popular among cross-fitters, and you can have one or more at home… and also use it outside.
What to look for in a sandbag:
Durability, you don't want the sand slipping out through your gym
Do you want the bag prefilled or not? Bot options are good, depending on your preference.
Check reviews for grip.
8. Weighted Medicine Ball
My personal training clients always love the exercises with the weighted medicine ball. You can throw and catch the ball and do many more exercises with a Medicine Ball. This ball is another "must have" for your home gym, to add some playfulness to your workout routine and train your core.
What to look for in weighted medicine ball:
Just choose one you like, I would recommend 10lbs.
Note: a medicine ball is not the same as a slam ball. Slam balls are made to train explosive power. You use all your strength to slam these types of balls to the floor, and they won't bounce back. These types of exercises I would not recommend for your home gym, unless you don't have any neighbors.
9. Step
A step comes in handy with all kinds of exercises. If you have enough space in your home gym, I would recommend adding a step with an incline option. You could use it instead of a bench.
What to look for in a step platform:
With or without incline option. If you want to use it as a bench, buy one with an incline option.
Square or elongated. This depends on the space in your gym.
Read reviews on grip and durability
10. Jump rope
Jump ropes come in a wide range of prices. They hardly take up any space, and they are great for a cardio workout.
According to Wikipedia, jumping rope for ten minutes is equivalent to running for eight minutes with regards to burning fat [4].
In that regard, jumping rope is a good option, because it puts less strain on your knees than running.
Jump ropes come in a wide range of prices. They hardly take up any space, and they are great for a cardio workout.
Some jump ropes come with a clip system to change the weight of the rope.
What to look for in a jump rope:
Tangle free
Adjustable length
Ergonomically designed handles
Anti-slip handle
11. Pull up bar
I am not sure about a pull up bar in your home gym. If you have an all-in-one machine (see further below in this article), then you already have a pull up bar option.
The pull up bars for your door can damage the paintings, and some might not be safe. So be careful. If possible, find a play ground outside with a rack where you can do pull ups.
However, if you do have a doorway to fix the pull up bar, or a wall, these are things to look for in a pull up bar.
What to look for in a pull up bar:
Check how the pull up bar is fixed. Some go in between doorposts. Others have a system to hang on top of the doorposts. And others need to be fixed to the wall.
Check the maximum weight the pull up bar can carry.
Always check quality and safety.
12. Workout bench
A workout bench is handy for all kinds of upper body exercises. In the gym, I often use a workout bench. So, if you have the space, it would be great to have one in your home gym too. Look for a workout bench with adjustable incline option.
If you have a step that can be adjusted to incline, then you might not need a workout bench.
What to look for in a workout bench:
Incline and decline option
Extra options: some have hooks to fix straps
Foldable if you have little space
Props to clamp your feet behind
Quality is important, read the reviews, because cheap workout benches can feel wobbly.
Related articles:
Best workout bench for your home gym
7 Best adjustable weight benches
13. Smart mirror
A relatively new item in the home gym space is the smart mirror. These are interactive mirrors that check your form and offer real-time feedback. They come with live and on-demand classes. Some also offer personal training.
Some come with a mat, straps, foam roller and dumbbells. Some mirrors adjust your posture, advise on the weight of the dumbbell, and count reps.
Why you should have a smart mirror
A smart mirror is nice to have, but not necessary. You can do all the exercises on your own with a normal mirror. However… if you like some extra guidance and motivation for your workout at home, then a Smart Mirror that extra push. Also, the option to have a personal trainer is great, especially if you cannot go to a gym.
Why shouldn't you have a smart mirror in your home gym?
A smart mirror is relatively expensive, and you connect yourself to another screen.
Your Smart Mirror checklist:
What classes does the Smart Mirror supplier offer? Do they fit your needs?
Can you use the smart mirror as a regular mirror?
Does the smart mirror come with equipment, like smart weights and straps?
Does the smart mirror provide feedback on your posture?
Check customer reviews.
Related articles:
Fitness Mirrors Guide for your home gym in 2023
Workout equipment for larger spaces
Until now, I discussed small items for your home gym. These items fit in any workout space and can easily be stowed away. However, if you have more space, like a half garage or a larger workout room, consider adding the following equipment.
14. Olympic Barbell and weight plates
With all my clients, I do squats, lunges, deadlifts and chest presses with the Olympic barbell. No matter what your level, you can always use the Olympic barbell. This is a piece of equipment that many people with a home gym put on their number one equipment to buy first.
Based on the evidence available, there is enough reason to include Olympics lifts into an athlete training regimen. The NASM (National Academy of Sports Medicine), where I have a degree, has a good article on Olympic weight lifting exercises.
What to look for in an Olympic barbell with plates:
With regards to the plates for your home gym, it is important that you don't annoy your neighbors or damage your floor. Look for so-called 'bumper plates' with a rubber cover.
If possible, look for plates with handles. In that way, you can also use the plates for functional exercises. Like doing a squat with the plate in front of your chest.
If you have a gym in your garage and rubber flooring, you might consider iron plates. Also, if you are training for competitions, you might need the iron plates, with exact weights.
Olympic barbells come in different weights and sizes.
Your Olympic Barbell checklist:
What weight and grip for the barbell:

Most 15kg bars have a 25mm shaft
Most 20kg bars have a 28mm shaft

Make sure the plates fit on the barbell
Bumper plates or iron plates
Plates with handles if you want to use them for functional training.
Do you need a barbell rack? If you have an all-in-one rack, you don't need a separate rack for the Olympic barbell.
15. All-in-one/power rack/squat rack/smith machine
The all in one training machines have different names, like power rack, squat rack, power cage, multi rack, smith machines. They come with various options and add-ons, like a bench, a pulley and a pull-up bar. You can train all parts of your body on these all-in-one machines.
These machines are great to have in your home gym if you have the space. When I travel, I often look for a hotel with an all-in-one machine.
These days, a special variant of the all-in-one machine is the Technogym Kinesis. This piece of equipment is designed with elegancy in mind.
Why you should have an All-in-one Rack
If you want to stay strong and fit, we always advise power training. At any age and level. It is not enough to do cardio exercises and yoga. Your joints need some pressure to stay strong and healthy [5].
If you have space in your home gym, investing in an All In One machine is great. Look for a machine with the options and add-ons you need.
Why you shouldn't have an All-in-one Rack
If you don't have the space for this rack, no worries. You can come a long way with all the other equipment I discussed here before. Also, if you prefer functional training with smaller equipment and body weight, then you don't need an all-in-one machine.
Your all-in-one checklist:
An All-in-One Rack is an investment for life. You will probably get locked in the eco-system of the supplier, once you start purchasing add-ons. So chose a well known brand and read customer reviews. Check for:
Training options
Add ons
Quality
Related articles:
The 10 Best Full Body Workout Machines For Home Gym
All-in-One Machines
Cardio Machines
If you have room in your home gym for a cardio machine, there are many options I will discuss below. As a personal trainer, I would say: if you can, go for a run or bike ride outside. The fresh air and change of scenery will help you make the best of your cardio workout.
Cardio workouts are good for your cardiovascular system [6]. However, always consult your doctor first, before you start any new training program. Apart from cardio, it is also important for your body to do weight training exercises.
When you want to do your cardio exercises inside, here are your best options:.
16. Rowing machine
Rowing is one of the best cardio exercises you can do. You engage all your muscles, and simultaneously it has a minimal impact on your joints. Be careful though that you have a proper posture while rowing. Consult a personal trainer first, before you start rowing regularly.
There are 3 types of rowing machines. For an in depth article, read this rowing machine guide by Sciencebeta.
Resistance bases on air

The resistance increases when you pull harder.
Noisy
Magnetic Resistance

The resistance stays the same when you pull harder.
The most silent rowers.
Water-based resistance

The resistance increases when you pull harder. More water has to be paddled.
Quiet, you hear the water like you are rowing on a canal.
You can adjust the force by adding or distracting water.
Water rowers usually have a beautiful design, for instance with wooden elements.
Related articles:
Ergatta vs. Hydrow 2023 — Which Rower Is Better for You?
Water Rower Vs. Concept 2 — Which Is Better For You?
17. Exercise bike
There are so many options if you are looking for an exercise bike in your home gym. The first thing to consider is your position on the bike:
Indoor Cycling Bikes

You are positioned as on a sports bike, with your upper body leaning forward. These types of indoor bikes mimic racing the most. You can stand on the pedals, change speed with a knob, and there are lots of spinning classes or Peloton races you can join on screen.
Upright Exercise Bikes

Upright exercise bikes are the most used bike in home gyms, according to Gymetrix, a leading gym equipment analysis company. These bikes make relatively little noise, so they fit in your home gym. You can do a heavy cardio workout on these bikes, but also a gentler one.

Recumbent Exercise Bikes

Recumbent exercise bikes are used in gyms and physiotherapy settings for warming up and gentle exercise. You sit upright with back support. This makes a recumbent bike ideal when you are less mobile or have lower back problems.
Related articles:
7 Best Recumbent Exercise Bike for Your Home Gym in 2023
6 Best Under Desk Ellipticals for your Home Gym 2023
18. Treadmill
Whether you are training for a long run, or just want to do sprints, a treadmill can be a great cardio machine. If you have the space. As a personal trainer, I would recommend running outdoors for extra fresh air and a change of scenery. But not everybody has this option or likes running outside.
Look for a treadmill that is as silent as possible. Other options that might interest you are a heart rate monitor, preset tracks, ease of changing speed, suitable for walking, incline options.
Always go for quality when purchasing a treadmill. Because you don't want it to break when you run.
19. Elliptical/Cross trainer
The elliptical or cross trainer is my favorite cardio machine. Because you use both your arms and legs, and you can go forward or backwards. I also do High Intensity training on ellipticals.
What to look for in an elliptical trainer
Suitable for your body, some elliptical don't fit people over 6 feet
Transportable
Tablet holder
Water bottle holder
Heart rate sensor
Incline
Noise level
Related articles:
Best Treadmills For Low Ceilings: Our Top Picks in 2023
Stairmaster Vs. Treadmill 2023: Which Is Better For You?
Sole vs. Horizon Treadmill 2023 – Which is better for You?
20. Stair stepper
Stepping stairs is an important functional movement. A Harvard Alumni Health Study found that climbing 35 or more flights of stairs a week significantly increased longevity compared to people who climbed fewer than 10 stories a week [7].
You can go up and down stairs in your house or in a park. Or you can use a stair stepper.
Stair climbers target all muscles in your legs and hips. The exercise is great for improving stability and posture. Climbing stairs is more challenging than running on a treadmill. And simultaneously, it is easier on your joints than running.
What to look for in a stair stepper:
Space: If you have little space, consider an under desk stair stepper.
Resistance levels: If you plan to do heavy cardio workouts on your stair stepper, look for machines that offer multiple resistance levels.
Weight capacity
Extra options: some stair steppers come with hooks to fix resistance bands.
Cardio Machines Checklist
Think long term, ask yourself whether you will actually use the cardio machine over a longer period. I know plenty of people who have cardio machines at home, get bored and never use them again.
First, consider doing cardio exercises outdoors, like walking, running, rowing or biking.
If motivation is an issue, consider a machine that comes with membership and online programs, like a peloton bike.
Looking for the best cardio fitness? Choose between a rower or a cross-trainer. In that way, you train your arms, legs and core.
Plenty of space and enough budget? Get more cardio machines for variation.
21. Mini Trampoline
A small trampoline or rebounder could give you a great start to the day. Research shows that a few minutes of trampoline training daily improves your lymph system and is good for cardio. And according to the Cleveland Clinic there are more health benefits of exercising on a trampoline [8].
Some mini trampolines come with a handle bar for extra safety. Others come with resistance bands.
What to look for in a Mini Trampoline
Handle bar for extra safety
Weight capacity
Foldable
Level of noise
Optional resistance bands
Check customer reviews
22. Punching bag
Boxing is great for a good cardio/strength workout. If you have the space in your home gym, consider adding a punching bag. Because punching bags are not only for boxers, but also for everybody. Consult a personal trainer or boxing instructor to learn the proper techniques. You can also find boxing classes online.
Free standing punching bag
No drilling in the wall or ceiling
Usually you have to fill them yourself with sand (and/or water)
Stable
Hanging punching bag
Fit the bag on a ceiling or there are also punching bag stands.
What to look for in a punching bag
Level of resistance
Free standing or hanging
Size
Unfilled or filled
Quality: some punching bags come with a 10 year warranty.
FAQ About Home Gym Equipment
What equipment is good for a home gym?

For small spaces, I recommend the following:
•Mat
•Resistance bands and tubes with handles
•Suspension trainers
•Dumbbells
•Kettlebells
For larger spaces, here are equipment you can add:
•Olympic Barbell and weight plates
•All-in-one/power rack/squat rack
•Rowing machine
•Exercise bike
•Treadmill

Is a home gym a good idea?

A home gym is a good idea to save money and time. You don't need to spend monthly gym memberships, instead, you can buy equipment that you can use long-term. And it allows you to exercise on your own schedule.

What is the most essential gym equipment?

A mat, resistance bands, dumbbells, and kettlebells are what I call 'home gym essentials'. So if you have these in your home gym, you can get a total body workout.
What to do next?
Start with adding these essentials to your home gym: mat, resistance bands, dumbbells, kettlebell and mirror to check your posture. Do your research based on the checklists in this guide.
Also check out our half garage gym ideas for inspiration.
A question for you
Did you find this guide useful? Do you miss some equipment in this list? Please leave a comment below, and I will reply and update this article.
Happy training in your home gym,
Inge van Haselen
Personal Trainer