Do you want to build a home gym, but have a limited budget? These home gym ideas on a budget will help you get started without breaking the bank.
As a personal trainer, I've seen the benefits of having a home gym. It gives you flexibility in how often you work out. And it's a great way to ensure you don't skip because of bad weather or other commitments.
However, if you're new to home gyms, it can be difficult to know where to start. The good news is that you don't need expensive equipment. There are plenty of affordable options that will help you get started.
With these money-saving tips and budget-friendly ideas, you can build a great home gym without breaking the bank.
Let's get started.
Table of Contents
10 Home Gym Ideas On A Budget
#1 Build your own gym equipment
If you don't have enough budget to buy equipment, you can actually build your own. It takes time to make them, but it's actually a fun project to do.
The best part is that you can customize your equipment to fit your needs. You can find many designs online and build them yourself.
For instance, you can build your own wood plyometric box instead of buying one.
You can actually build tons of gym equipment from scratch. You just have to be creative and find the right materials.
Check out this video by Rom GD on how you can build your homemade weights.
However, ensure the equipment you build is sturdy and safe to use. Prioritize your safety above everything else.
#2 Buy second-hand gym equipment
If you have the time to scour through the internet, you'll find that there are many second-hand equipment for sale. Many people sell their old gym equipment.
Some of these items are almost as good as new and can be a great investment. You can check gym equipment stores and websites to see if they have any second-hand items still in good condition.
Here are some of the best places to buy second-hand gym equipment:
Craigslist
Facebook Marketplace
Amazon Warehouse
OfferUp
NextDoor
LetGo
Garage Sale
My top three places to look for second-hand equipment are Facebook Marketplace, Amazon Warehouse, and Garage Sales.
With Facebook Marketplace, you'll have access to your seller's profile and can connect with them if something goes wrong with the equipment.
You can also find something near your area, so you can meet with the seller to pick up the item and avoid paying a shipping fee.
With Amazon Warehouse, you can check the reviews and ratings of the seller's products, which is a great way to ensure that you're getting quality items.
Finally, garage sales are a great place to find second-hand equipment, because there's not much risk involved, and they're often affordable. You can actually try out the equipment firsthand to ensure it's working properly.
However, garage sales are not always reliable sources of equipment, as they only happen once in a while in your area. And the items on sale are not always fitness-related.
#3 Sell your old stuff
You can also raise funds to buy equipment by selling old stuff that you don't use anymore. For instance, if you shifted from yoga to weightlifting, you can sell your yoga equipment to buy weights.
This is a great way to clean your house and get rid of junk collecting dust in the corner. You can also sell things online, which will make it much easier for you to reach a wider audience.
#4 Buy inexpensive gym equipment
As long as the equipment does its purpose, it does not have to be expensive. You can find many affordable equipment on the market today. Just make sure it is still high-quality and durable enough for you to use regularly.
You can also look for product packages where a piece of equipment includes several accessories you'll need for your exercises.
Like this yoga kit that includes a yoga mat, yoga block, and a yoga strap. If you buy these separately, they might be more expensive.
When you buy a weight set, you can leave out some weight plates. For example, if you can only currently lift up to 20 pounds, then buy up to 30 or 35 pounds for now.
You can buy heavier-weight plates, such as 40 pounds or higher, when you have a budget or progress in strength. This tip can also apply to other equipment, such as resistance bands.
#5 Buy versatile equipment
A piece of equipment that you can use for various exercises may be expensive upfront. But it's a better investment than buying more single-use equipment for every exercise.
For example, there are dumbbell weight sets that you can convert into a barbell and a kettlebell. Home gyms are also a good investment that saves you money in the long run.
If you're looking to buy dumbbells, then buy ones with adjustable weight settings. It gives a wide range of weights and is more cost-effective.
#6 Be creative in your workout regimen
There are various exercises that you can do even if you don't have the right equipment. For example, you can perform a woodchop cable exercise. Even if you don't have a cable machine, you can use a dumbbell instead.
Here are other exercise alternatives you can do, even if you don't have the right machine for it:
You can do more exercises with your equipment than you might not have realized. You just need to be creative and think of other ways to maximize the equipment you currently own.
Before doing any of these alternative exercises, do proper research on how to do them properly and safely.
#7 Improvise a cheaper alternative
If you don't have the budget to buy the right equipment, you can improvise an alternative solution.
For instance, you can build your own lat pulldown machine using resistance bands and a door anchor if the machine is too expensive for you. Check out this lat pulldown alternative.
Also, if you are looking for a home gym pulley system, you can go for the wall-mounted or portable pulley system. These pulley systems are cheaper than the freestanding versions.
Another money-saving tip is to buy a pulley system that uses weight plates for resistance instead of weight stacks. You can use those weight plates for other exercises.
#8 Maximize your home gym area
To avoid too much lighting in your home gym space, build your home gym in an area near the windows. So you can take advantage of natural light and save on the electricity bill.
You can also add gym mirrors, so they can reflect light throughout the room.
Building a home gym with access to windows will also keep the room ventilated. And you don't need to use a fan as much.
#9 Try an open storage
Instead of buying or building a storage area for your equipment, why don't you leave them out in the open? As long as you keep them organized and clean, they won't look chaotic or cluttered.
You'll still need some storage units for your equipment, but open storage like the one below is more affordable than closet systems.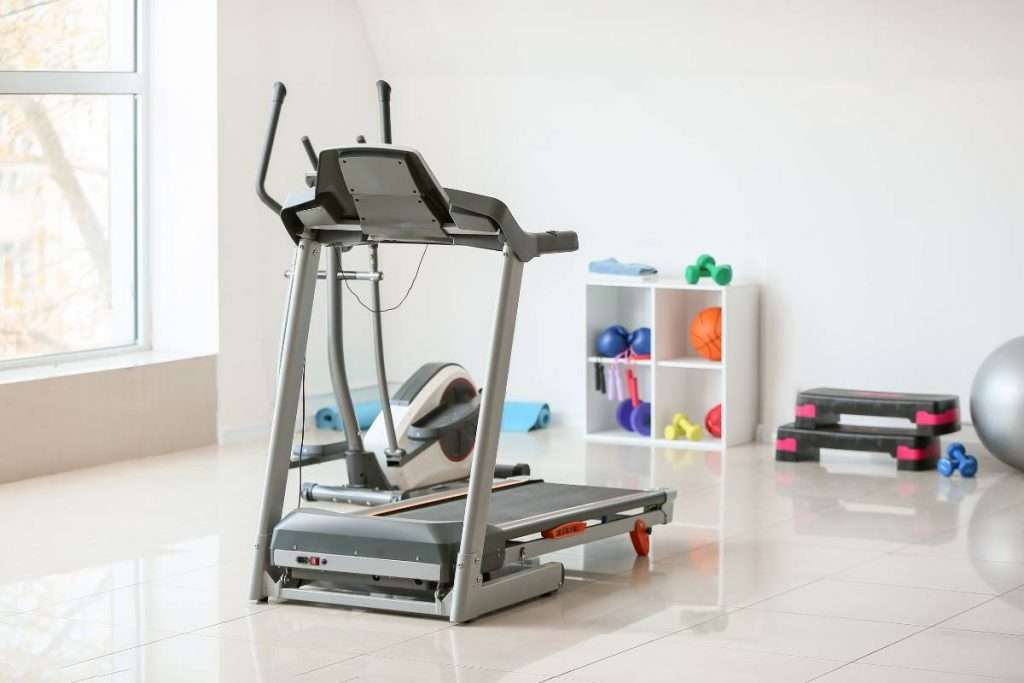 #10 Prioritize functionality over aesthetics
Most of the time, gym equipment becomes expensive because it has a stylish design or advanced features that you don't necessarily need.
If there is equipment that looks simple, but does the job fine, then there's no point in spending too much money. Prioritize the functionality and safety features of the equipment over its aesthetics.
You can find a lot of simple, yet sturdy and reliable equipment that doesn't cost a lot. You can also opt for equipment with basic features, but it still does what you need it to do.
FAQ about home gym ideas on a budget
How to create a home gym on a budget?

There are many ways to create a home gym on a budget. You can build your own equipment or buy second-hand equipment. You can also buy versatile gym equipment that you can use for many exercises. 

What should be in a small home gym?

If you don't have much space in your home gym, invest in home gym essentials like the following equipment:
•Mat
•Resistance bands
•Dumbbells
•Kettlebell
•Mirror to check your pose

Is gym at home effective?

Exercise at home can be as effective as going to a gym. The key is to find exercises that work for you, and don't let your lack of equipment stop you from getting fit. Home gyms are usually cheaper than a gym membership and offer more flexibility in terms of workout schedules.
What to do next?
Even if you have a limited budget, there are still many ways to get good and reliable gym equipment. It's just a matter of knowing what you want and where to look for it.
Consider the factors mentioned above, and know your priorities. So you don't waste your hard-earned money on something that won't last long.
For more guides like this, check out our home gym ideas section. You'll find many tips and guides to help you make the most of your home gym.