Here is a clear explanation of "Smart Weights". What they are, what they are not, and what to look for in these kinds of dumbbells.
As a personal trainer, I notice that the term "smart" with regards to dumbbells confuses people. Maybe that is the case for you too. In essence, dumbbells are called "smart" when they connect to the internet and are interactive.
So, those dumbbells always have some electronics in them. You can now ask your dumbbells to change weight. Let's dive in.
Table of Contents
What are Smart Weights?
A smart weight is a dumbbell that can connect to the internet, and interact with its user through an app. [1]. They are available as fixed weights and adjustable weights. The development of those weights is still in its infancy.
Fixed Smart Weights
The most advanced smart fixed weights are the dumbbells and ankle weights that come optionally with the smart fitness mirror "Mirror" by Lululemon.
These dumbbells and ankle weights are fixed, so you need different pairs. They connect to the Mirror, track your reps and provide form correction. You also get weight recommendations for each workout.
The dumbbells are available in 1, 3, 5, 10, 15, 20, 25, 30, and 35 lbs. The ankle weights are available in 1, and 2 lbs. The dumbbells have a fixed weight, so you need several pairs.
If you would like to know more, check out this guide about smart fitness mirrors.
Move It Beat are light weights up to 2.2 lbs for cardio workouts. The weights are fixed, so you need different pairs for different workouts. The dumbbells support motion tracking when connected to the Move It app.
Adjustable Smart Weights
Adjustable weights are a single pair of weights that can be adjusted to be heavier or lighter. Most are not "smart". They don't connect and you have to change weights by hand with a knob or pin.
But NordicTrack iSelect Adjustable Dumbbells are an exeception. These weights are voice controlled through Amazon Alexa.
You can ask Alexa to set a specific weight and increase or decrease weight. You can also create presets for common dumbbell moves, like biceps curl, triceps extension, chest press and more.
The dumbbells have an embedded accelerometer.
The NordicTrack dumbbells work with a subscription to the iFit App. This app displays the current selected weight, remembers your weight for different exercises, and has a ton of workouts. Not only for weight training, but also for smart stationary bikes, treadmills and more.
These adjustable dumbbells connect to a proprietary Move It app for motion tracking and workouts. That is why they are considered smart. However, they are not smart with regards to weight selection, this is done by hand through a handle. This Move It App is less developed than iFit.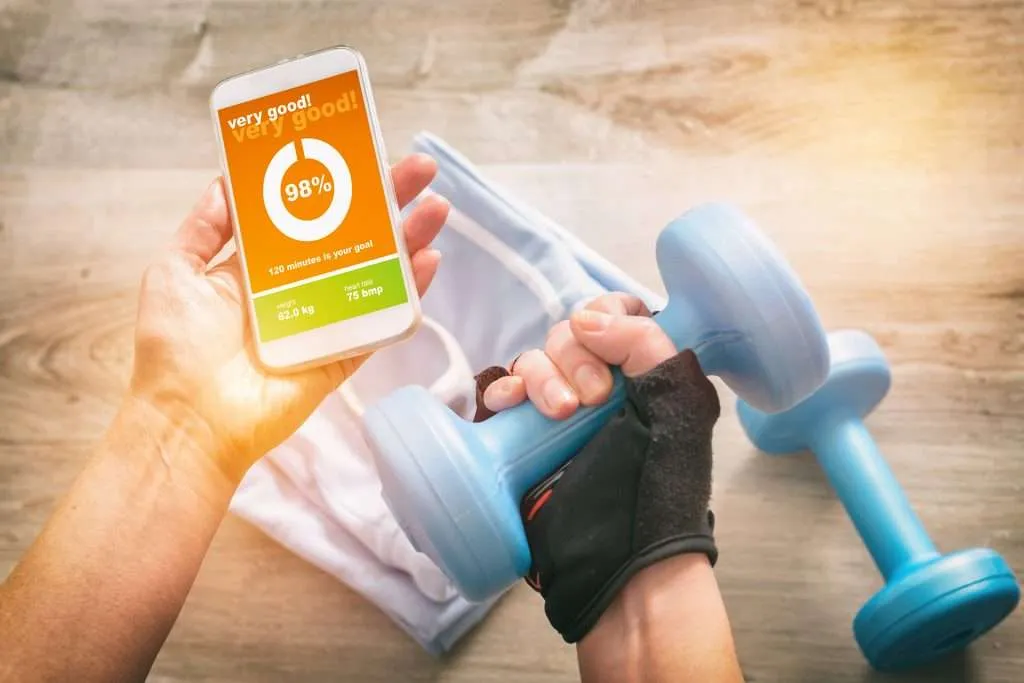 FAQ About Smart Weights
What are smart weights?

Smart weights are dumbbells that can connect to the internet and interact with you via an app. They come in both fixed and adjustable forms.

What are the two types of dumbbells?

The two types of dumbbells are fixed and adjustable. Fixed weights have a preset weight and do not change. Adjustable weight has removable plates to adjust the weight. Smart weights are also getting popular, and can be considered the third type.

Are adjustable weights worth it?

If you plan to use weights in the long run, adjustable weights can be a worthwhile investment. As your strength builds, you will need heavier weights. So an adjustable weight with a wide range of options is ideal.
What to do next
Smart weights are only at the beginning of development. Consider carefully if you need them for your workouts, as they might break down easier than regular weights. Also check out our guide on home weights sets.