Here are 5 steps to setting up a home gym you will love. And therefore, hopefully, use to work out more 🏋️‍♀️😊.
As a personal trainer, I know many stories of people who have gym equipment stored under their beds and never workout at home.
So how do you set up a home gym you will actually use? Let's dive in.
Table of Contents
Step 1 – Define your goals for setting up a home gym
Take out a piece of paper and write down your fitness goals:
Start with the why: "Why do you want a home gym?" Try to ask yourself this question 3 times. That takes you to the root of your emotional reason for wanting to work out at home. This alone improves your chances of actually using your home gym. [1]
How important is having a home gym for you?
What results do you have in mind from using your home gym?
What kinds of workouts will you do now and in the near future? Think of cardio, strength, barre, pilates, yoga, boxing. Remember that variety is important, so pick more than one.
Will you train alone or with others?
By answering these questions for yourself, you make better decisions about setting up your home gym.
Step 2 – Get familiar with modern home gym solutions
When you first decided to set up your home gym, you probably thought about the classic "old school" equipment. You see those machines in gyms. Which is still good, of course!
But these days, you have some innovative home gym solutions. I will discuss them below. So, before you spend your money on an "old school treadmill", it is my advice to familiarize yourself with the latest developments in home gym equipment.
Smart fitness mirrors
Smart fitness mirrors are interactive mirrors that stream workouts. They often come with optional fitness equipment like a mat, dumbbells, pulleys, workout bench, kettle-bell, yoga props, mountable barre and more.
The mirrors track your movements and provide feedback on your performance. Some fitness mirrors even provide the option to hire a 1-on-1 personal trainer.
Most smart fitness mirrors are well designed. So you can put them in your bedroom or living room. They don't take up much space, and sometimes they have built-in storage space.
Smart fitness mirrors work with an app to stream live and on demand classes. The upside is that you get hundreds of workouts in many categories. From cardio, to strength, from bar to yoga.
You get new workouts regularly, so variety is guaranteed. And the mirror app will keep challenging you, by advising heavier weights or more reps based on tracking your workouts. Many mirrors also have leaderboards.
When you get motivated by variety or competition and like to do guided workouts, a smart fitness mirror might be the best solution for your home gym.
The downside is that you need a subscription to take full advantage of the smart mirror. For some people, this is the reason to choose classic equipment and invest in more different machines.
Smart cardio machines
Another cool invention for your home gym are the smart cardio machines, like smart stationary bikes, treadmills and rowers.
These machines usually have large touch screens to stream workouts. The workouts are not just indoor classes, but also virtual tours in many parts of the world. For example, you hike with a trainer on the Mount Everest, or cycle through Big Sur.
Some machines automatically adjust speed, incline and resistance to make the experience even more real.
Training in this way can be engaging. If you like the scenery and tours, it helps you work out more often and more intensely.
The machines also stream indoor classes, where you alternate cardio training with core and strength exercises on the mat. Often, the screen can be rotated so you can continue to watch the trainer.
Smart boxing
A special kind of smart cardio machines are the smart boxing solutions. You get gloves with trackers in them and a punching bag or board. This form of cardio training can be more engaging than cycling, running or rowing.
Smart pilates reformer
A smart pilates reformer might be all you need for your home gym. You train your whole body with reformer exercises. This improves flexibility and strength.
For all smart cardio machines, you need a subscription to do the workouts.
All-in-one home gym machines
If you want to do strength training and don't care about the smart solutions, then look at the all-in-one home gym machines. These machines have evolved over the years. They used to be bulky and "hard-core".
But these days they are smaller and have more options. So, if you haven't looked for some time, please check out all-in-one home gym equipment.
With a single all-in-one machine in your home, you can do dozens of strength exercises.
This kind of fitness equipment, together with some dumbbells, could be all you need, when you can go running or cycling outside for your cardio workouts.
Classic home gym equipment
Of course, you can also set up your gym with classic home gym equipment, like dumbbells, a cross trainer and a workout bench. This is good if you know how to exercise or if you like to use a fitness app with your own equipment. Setting up your home gym with classic "non smart" equipment is cheaper in the long run, because you have no recurring membership costs.
Step 3 – Create a dedicated space
If possible, give your home gym a dedicated space. Even if it is only 25 square feet in the corner of your bedroom.
I describe here the items to think of for your home gym space:
Make sure your mat, dumbbells and equipment are neatly placed and ready to be used. In this way, you will be more motivated to start your workout. Instead of having to clear some space every time and grab your dumbbells from under the bed.
Put up a whiteboard where you can keep track of your progress. Also add motivational quotes and inspiring images.
Mount a TV to the wall or a stand for your iPad or laptop.
Place a mirror where you can check your movements.
Pay attention to lighting. Make your workout room a pleasant space to be in.
Add some music speakers if you like to workout on music. You can also use a Bluetooth headset and smartphone.
Check out our guide with half garage gym ideas.
Step 4 – Start with essential equipment
Whatever you decide, start setting up your home gym by adding some essentials. Even if it is just a mat and a pair of dumbbells… get started and do your workout.
Don't postpone it, because you are still deciding on equipment. You don't need much to get started, a mat and some dumbbells will do.
You can always expand your home gym later and add fancy equipment.
Step 5 – Set yourself up for success
The most important step is to set yourself up for success. Because your home gym is half the story, YOU are the other half. No matter how good your equipment is, if you use it, there will be no result.
Hire a trainer
A good way to set yourself up for success is to hire a personal trainer for your first sessions at home. He or she can create a schedule for you and teach you how to do the exercises right.
Some smart fitness mirrors offer the option to book a 1-on-1 personal training session via the smart mirror.
Also, the smart fitness mirrors provide real-time feedback on your performance and suggest corrections.
Use a fitness app or online program
A good alternative to a personal trainer at home is a fitness app or a virtual personal trainer. The variation in apps is enormous. I give you the top 5:
Peloton, use stand-alone or connect to smart cardio machines
Apple Fitness Plus, use stand-alone or connect to smart cardio machines
iFit, use stand-alone or connect to smart cardio machines
Freeletics, focused on body weight exercises, like burpees
Jefit – focused on strength training
Openfit – live classes with camera, where trainer gives feedback
Nike Training Club – free, with multi-week training programs
Find a training partner or buddy
See if you can find somebody who shares your fitness goals. Or who is willing to act as your buddy and keep you accountable?
Preferably someone who has been there and works out more or better than you. Because science reveals that sharing your fitness goals with someone who is better than you helps achieve them [2].
Put your training in your agenda
Research shows you will train more if you put your workouts in your agenda [3]. This is one of those simple things that can help you achieve your goals.
The people I know who have a home gym forget to put their training in their agenda. Probably because the gym is always available. And because they have a home gym, to be free and train whenever they want.
This can be a trap. If you don't plan your sessions, you are more inclined to skip a workout. So, just put in your agenda.
Use the power of habits
On average, it takes 66 days to form a habit [4]. But results vary per person from 18 days to 256 days. So, consider how much time you need to get in the habit of working out in your home gym.
Make sure you focus on forming this habit of exercising. Make your workouts as attractive as possible, with variation, an accountability partner, different classes on an app, music, TV, whatever works for you.
Just don't skip a workout for at least 2 months.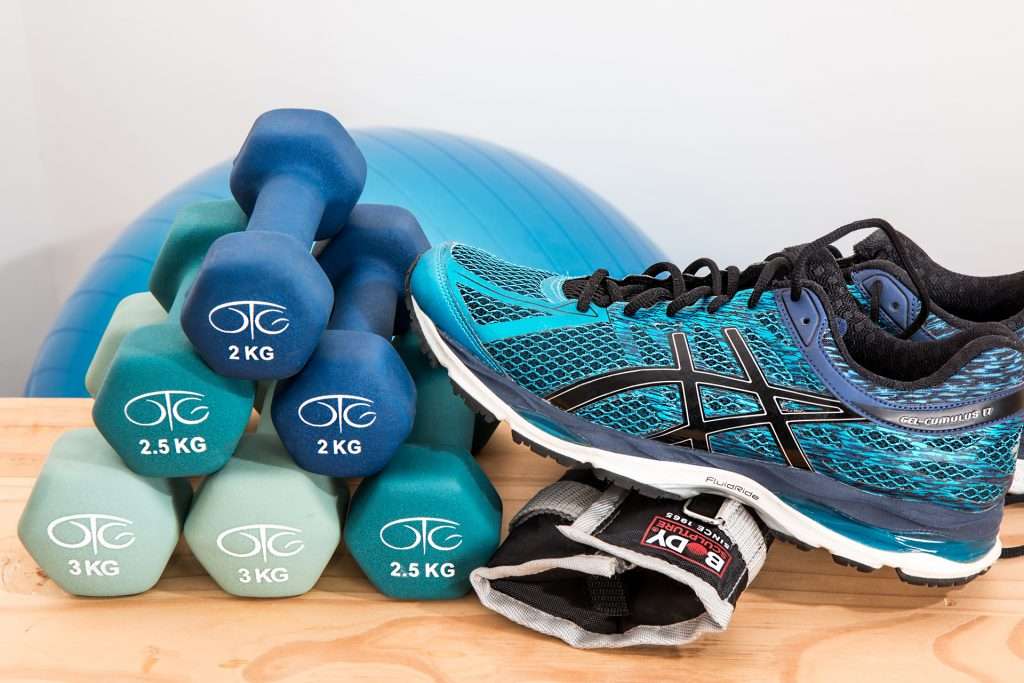 FAQ About Setting Up A Home Gym
What do you need to set up a home gym?

Start with essential equipment like dumbbells, kettlebells, resistance bands, a mat, and workout shoes. Then, gradually add more equipment as your budget and space allows.

Is it worth setting up a home gym?

If you are planning to use your home gym in the long run, it is worth setting up one. It will help you save money from gym memberships and gives you the freedom to work out whenever you want.
What to do next
Setting up a home gym is one of the best steps you can take for your health and fitness. Make sure you take the steps from this guide. Also check out our Home Gym Equipment Guide.