Trying to decide between joining a gym or building a home gym? Both have pros and cons. It's a tough choice.
As a personal trainer, I am in the gym daily. But I also have a small home gym, for those times when I want to work out at home.

I also have clients with home gyms and clients with a gym membership, or both. It depends on your situation.
Home gyms offer the convenience and privacy of your own space, while commercial gyms offer expertise and community.
So what would be best for you?
Let's find out.
When is Home Gym or Gym Membership Right for You?
As I mentioned, both gym options have their pros and cons.
However, some circumstances require a home gym or gym membership. Of course, you can also have both a home gym and a membership.
| | | |
| --- | --- | --- |
| Home Gym vs Gym Membership | Home gym | Gym membership |
| Have complete control over the equipment | ✅ | ❌ |
| Exercise in private. | ✅ | ❌ |
| Complete flexibility in schedule and workout plan | ✅ | ❌ |
| Join a community of people striving to be fit and healthy | ❌ | ✅ |
| Access to the latest fitness equipment and classes | ❌ | ✅ |
| Not enough budget upfront | ❌ | ✅ |
| Get a break from home or work from time to time | ❌ | ✅ |
| Have small children or family who can't be left unsupervised | ✅ | ✅/❌* |
| Self-accountability | ✅ | ✅ |
| Not enough space or time to build a home gym | ❌ | ✅ |
| Needs to be held accountable by a trainer or gym staff | ❌ | ✅ |
*Some gyms have spaces for children, like daycare.
Let's take a look at each situation in further detail.
Table of Contents
Home Gym Vs. Gym Membership: Pros and Cons
Home gym pros and cons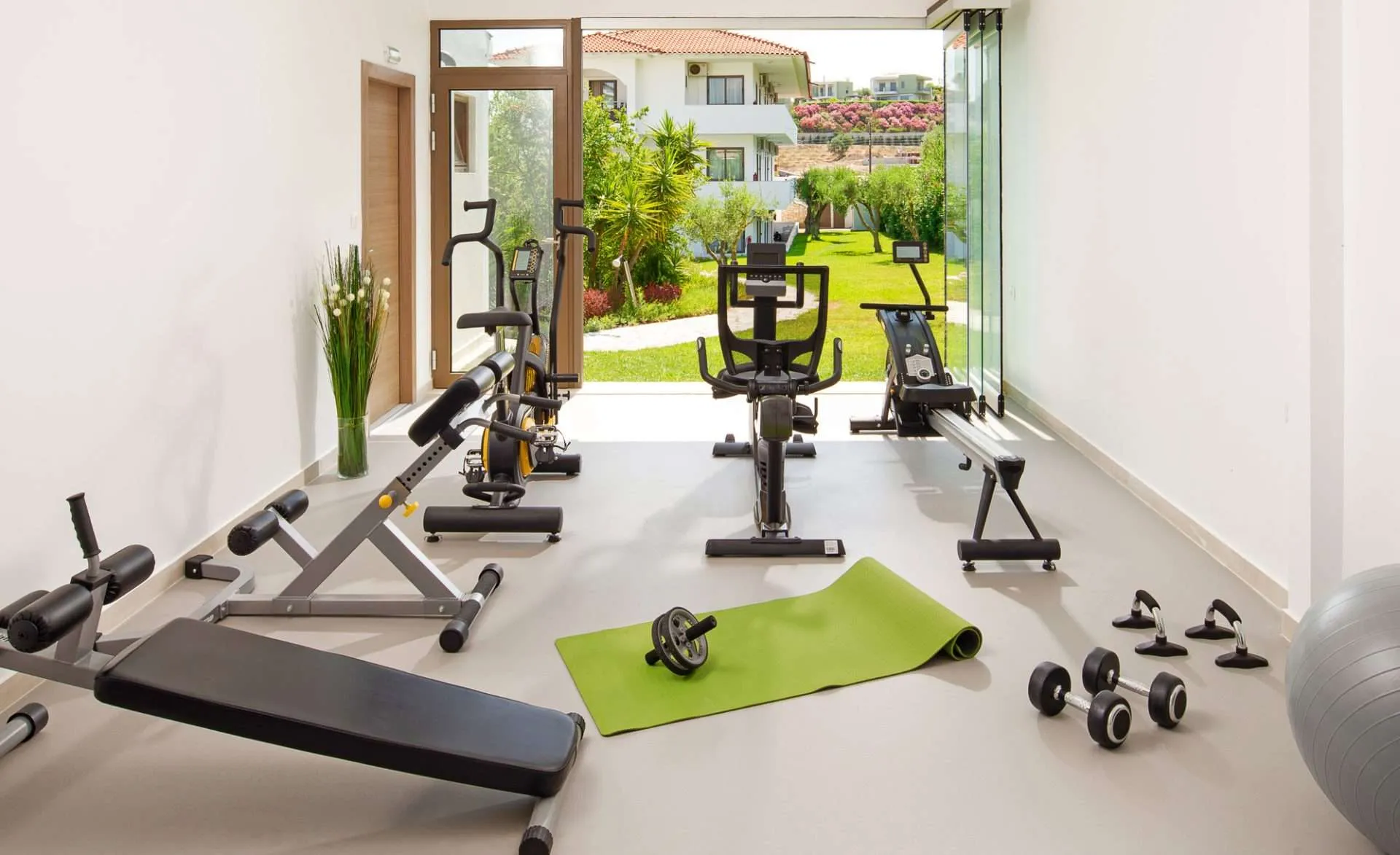 So, let's start with evaluating having a home gym.
What are the pros and cons?
What are the things you could consider in your decision-making?
Home Gym Pros
Convenience
Home gyms provide ultimate flexibility in terms of workout timing and location. You can exercise anytime, without wasting time commuting or driving to and from the gym.
Unlike commercial gyms with limited hours, your home gym is available 24/7. No need to worry about your home gym being closed for maintenance or holidays.
Some commercial gyms only allow a limited time for gym usage, while your home gym is always open.
You never have to wait for an exercise device or share it with others when you have a home gym.
You can even exercise in your pajamas, which you cannot do at a commercial gym.
Home gyms are convenient, especially if you have a busy schedule or prefer to exercise outside the usual business hours.
Cost-effective
Over time, a home gym can save you money, as you won't be paying monthly gym membership fees. No more locker or shower fees, either.
Plus, you don't need to shell out extra money for your transportation. Or other expenses associated with going to a gym.
Privacy
Exercising at home can help you avoid feeling self-conscious or judged by others. And you won't have to deal with crowded locker rooms or shared showers.
You can concentrate on your workout without worrying about other gym-goers interrupting you. You can choose the songs or music you want to listen to, or exercise in silence, without too much background noise.
Customization
You can choose the gym machines you want and design a layout that works for you.
This personalization is impossible in commercial gyms, where the equipment and space are shared among many users.
Cleanliness
The biggest ick in gyms is the sweaty machine used by dozens of people before you. In a commercial gym, this is inevitable.
At home, you can wipe down equipment after each use. And you don't have to worry about other gym-goers tracking sweat and germs on the equipment, since you are the only one using it.
Additionally, you don't have to worry about disorganized equipment, making it hard to find when needed.
No gym etiquette
You don't have to worry about gym etiquette in a home gym.
You can do whatever you want without anyone telling you to keep it down. Go at the weights with full force, or grunt and scream as loud as possible.
Plus, you don't have to share equipment with anyone, so you can hog any equipment. You can even leave your sweet angels everywhere; nobody will judge you.
And no gym staff will scold you for leaving weights lying around.
More family time
Since the gym is in your home, you can spend more time with your family. You can even get them interested in fitness and join you at the gym.
Profitable
When you invest in a home gym, you can make a profit. You can rent your equipment to friends and family members, or even host fitness classes at your house for money.
And when you decide to return to commercial gyms, you can sell your equipment for a profit.
Safety
Although many commercial gyms are well-run, others can be hostile environments, especially for women. You risk being harassed by other members.
According to an article from RunRepeat, 56.37% of female and 21% of male gym-goers experienced harassment in the gym.
But this is fine when you have your home gym, because you are the only person using it. You can work out in peace and not worry about being harassed.
Home Gym Cons
Upfront costs
When you build a home gym, the upfront costs can be a bit daunting. Apart from buying equipment, you may need to renovate or repair a space in your home to make it suitable for a gym.
Note: The costs don't have to be high. You can start with a few items, like dumbbells and straps, and do functional exercises with just your body weight.
Space constraints
You may not have enough space to accommodate a home gym, especially if you are renting a place. You may have to remove other stuff, like furniture, to make room for a home gym.
Limited equipment
Unless you have ample space and funds to invest in equipment, your home gym may have less machine variety than a commercial gym. This will limit your workout options.
You may not be able to do specific exercises that require specialized machines.
Lack of social support
Without the social aspect of going to a gym, staying motivated and pushing yourself during workouts can be more challenging. You may miss the healthy competition among other members to push you harder.
No trainer guidance
You also don't have the guidance of a fitness trainer. When you decide to build a home gym, be sure to hold yourself accountable for your workouts. And have a plan to ensure you're still getting the same benefits.
Note: There are ways to have a personal trainer in your home gym.
Ask a personal trainer to come to your house.
Buy a smart mirror and book a personal training session.
Risk of boredom and excuses
It's easy to get bored or make excuses not to work out alone. You can keep things fresh and challenging by trying new workouts, setting goals, and tracking progress.
Distractions
While home gyms allow you to spend more time with your family, they can also be a distraction. Also, the lure of the TV, computer, or phone can make staying focused on your workout hard.
Unless you set boundaries, you may find yourself wasting time, or getting distracted by other things.
Maintenance
Home gyms can be low-maintenance. However, they still require a little upkeep here and there.
And you, as the owner, have the sole responsibility to clean, organize, repair, and replace equipment as needed.
No climate control
Gyms can be too hot in the summer and too cold during the winter. Unless you invest in a heating or cooling system, you'll need to find a way to keep your home gym comfortable and accessible year-round.
Commercial gym membership pros and cons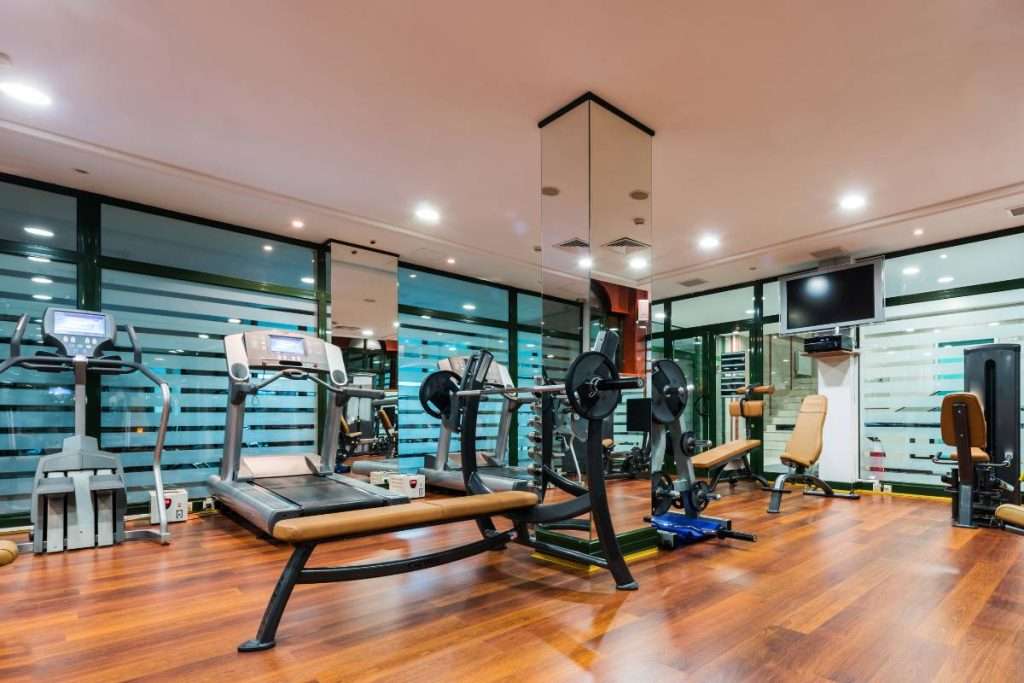 Now, let's explore the pros and cons of joining a gym.
Gym membership pros
Up-to-date equipment
Gyms often invest in the latest equipment and fitness trends. You won't miss out on any of the latest workout trends, because your gym is already on top of them.
Amenities
Commercial gyms also offer many amenities that you won't find at home. There are spaces for yoga, cardio, weightlifting, and more. You also have access to workout classes, locker rooms, and showers.
You don't have to spend any extra money on these gym amenities. It's already included in your membership fee.
Membership deals
While gym memberships can be expensive, many gyms offer deals and promotions. These can help make your membership more affordable.
You might also get a discount if you sign up for a more extended contract or pay multiple memberships simultaneously.
Guidance and spotting
I am a personal trainer myself. And I frequently witness individuals in the gym performing exercises incorrectly. In some cases, these incorrect exercise techniques may lead to back injuries or inadequate muscle training.
Having a personal trainer or staff member available for guidance and spotting can be invaluable. Other gym members can also help you if they have experience.
Expert advice
Many gyms offer personal training and nutrition coaching services, providing you with expert advice and guidance.
You can ensure your workouts are effective and safe. And they can also help you get on track with a healthy diet.
Community
Gyms can provide a sense of community, with opportunities to meet new people and make fitness-minded friends.
Just having other people exercise with you can be a great motivator. Plus, you may find yourself exchanging tips and advice with other gym members. Gym interactions can make time seem faster and less tedious.
Climate control
Especially in extreme weather conditions, many gyms have climate-controlled facilities. This can be a great benefit, especially if you have a medical condition aggravated by heat or cold.
A gym can also help you beat the heat, since many of them offer air conditioning.
Escape
For some gym patrons, going to the gym is a way to escape the stresses of everyday life.
A commercial gym offers a supportive community, and exercise helps take your mind off the day's problems.
You can use the gym as an excuse to get out of the house for a while. Or you can use it to de-stress after work.
Gym membership cons
Commute
Depending on the gym's location, your transportation costs and parking fees can add up quickly. Consider also the time you spend commuting to and from the gym.
If you live close to your commercial gym, it might not be an issue.
Hassle
Going to the gym can require additional planning and preparation. You need to pack a gym bag, deal with traffic, and find parking, which can be inconvenient.
Less privacy
If you prefer private, peaceful workouts with limited interactions, a gym may not provide the privacy level you desire.
Interruptions
Other gym patrons can be distracting or interruptive during your workouts, making it challenging to stay focused.
Set business hours
Some gyms only open during business hours, which may not work with your schedule. They may also close on holidays or due to inclement weather, which can be frustrating if you're eager to exercise.
Risk of harassment
As I mentioned, some gym patrons experience harassment from other members, particularly women. You may not feel comfortable exercising at a gym if you think your personal safety is at risk.
Crowded space
During peak gym hours, the space can become crowded, making it difficult to find a machine that isn't taken. Waiting time on equipment can also take longer.
Too crowded gyms can also make it hard to move without bumping into other patrons. And it can be difficult to find a space to do your exercise.
FAQs About Home Gym Vs. Gym Membership
Is a gym membership better than a home workout?

One option is not inherently better than the other. Gym memberships work well for you if you like being around others trying to be fit and healthy. And if you need access to a trainer, gym equipment, classes, and other amenities.

What are the benefits of a home gym?

A home gym is an ideal choice if you want to keep your workout routine private. And don't mind working out alone. A home gym also saves you money on a monthly membership fee.

What are the downsides of a home gym?

A home gym may not offer the social environment you need to stay motivated. And you have to be willing to invest the time and money into building or buying a home gym.
What to do next?
Deciding whether to join a gym or build your home gym is a personal decision. There are pros and cons to both gym options.
So what's the best option?
It depends on your lifestyle and goals. If you want the social aspect of exercising with others, then joining a gym may be right for you.
But if you don't have time to drive there or are looking for more privacy, then building your home gym might be ideal.
I suggest choosing the option that can help you stick to your fitness goals and make them a reality.
If you are still in doubt, please ask your question in the comments below and I will get back to you within one business day.