Are you short on space in your home gym? These 12 home gym storage ideas will help you get the most out of your workout space.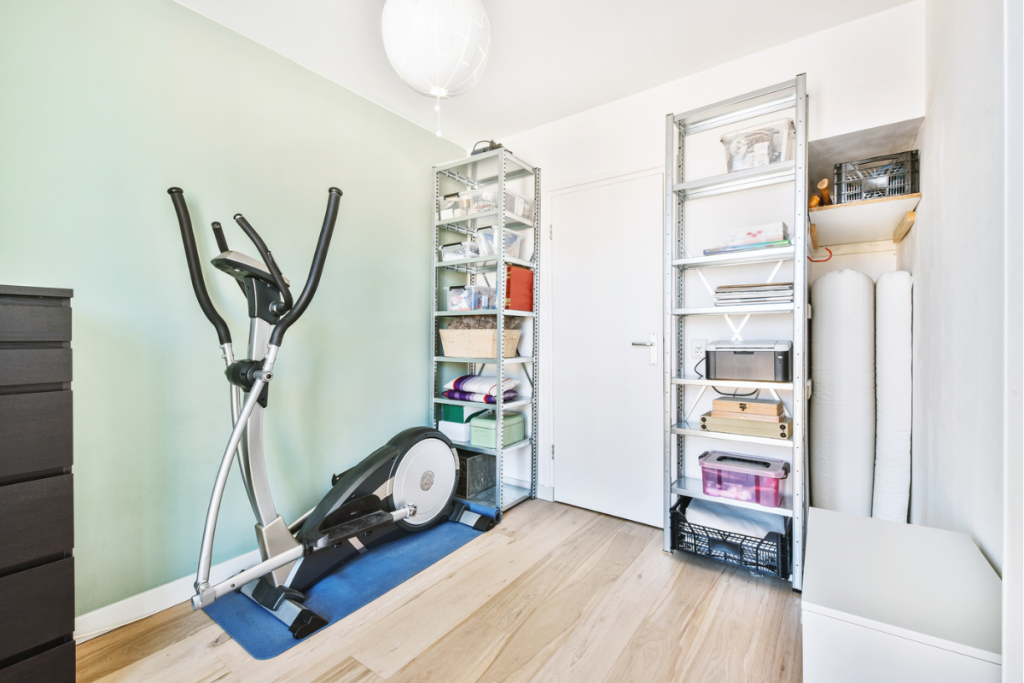 When I set up my home gym years ago, I also faced the same dilemma—how can I fit all my equipment in such a small space?
So, I had to be creative and think outside the box. I also gathered some insights from my personal training clients. That's when I came up with these 12 home gym storage ideas.
The fact that you are here means you are also in a similar situation.
But I want to remind you one thing first: while these ideas can help maximize your space, they won't magically make your area any bigger.
So, before you buy any home gym equipment, make sure you can fit it in your space. Don't buy a Smith machine if your workout space is in your living room, with all your furniture and appliances in the way.
You have to be practical and smart on your investments.
So without further ado, here are some of my best tips and tricks to help save space in your home gym.
Table of Contents
12 Home Gym Storage Ideas
1) Use Boxes and Baskets
Keep your workout area tidy by storing smaller equipment and accessories, such as resistance bands, smaller weights, and workout gloves, in labeled boxes or baskets for easy access.
This home gym storage solution is my favorite, because it keeps my small equipment and gym accessories in one place and prevents clutter.
You can even invest in larger baskets and boxes for larger items.
2) Use Pegboards
My client, Marjan, recommended using pegboards to store small and light items.
Pegboards are functional and can add a touch of style to your gym space. Hang frequently used items like resistance bands, jump ropes, and gym towels within arm's reach.
Pegboards come in various materials, like wood, plastic, and metal. If you are particular about your gym aesthetic, you'll definitely find a pegboard that matches.
3) Use Wall-Mounted Shelves
When floor space is limited, the walls become your best friend. Install wall-mounted shelves to neatly arrange items like water bottles, workout gloves, and even motivational decorations.
Like baskets and boxes, you can get wall-mounted shelves in large and small versions.
4) Use Vertical Shelves
Tall, open shelves are versatile and great for storing equipment of various sizes. They can accommodate a wide range of gym gear, while keeping your space clutter-free.
As I mentioned, these kinds of shelves are open, so your equipment is exposed. This storage solution may look cluttered, depending on how you arrange your items.
If this is an issue, you can use baskets or boxes to hide the contents of your shelves.
For example, if you have lots of small items like dumbbells and ankle weights, hide them in a basket and place them on your shelves.
5) Use a Yoga Mat Holder
Keep your yoga or Pilates mat organized and easily accessible with a dedicated mat holder.
Mats tend to accumulate dirt and sweat, so storing them on a separate shelf will help keep your other equipment clean.
6) Use a Hanging Storage
A close friend of mine, Yvon, uses hooks, racks, and hanging organizers in her home gym to keep items off the floor and make them easily accessible.
Most hanging storage can't handle a heavy load. So I recommend using these items to hold lightweight items like yoga blocks, foam rollers, or resistance bands.
7) Use a Dumbbell Tree Rack
Most home gym owners leave their dumbbells on the floor or use a rack. But this solution is not space-efficient.
A horizontal rack takes up a lot of space, and keeping your dumbbells on the floor will only make your dumbbells and floor more susceptible to dirt.
So a dumbbell tree is the ideal solution for storing your dumbbells. It keeps them off the floor and allows you to see all of them at once. Plus, you can store your dumbbells from the lightest weight at the top to the heaviest on the bottom.
8) Use Storage Benches
Opt for benches with hidden storage space. Most chairs and benches have a hollow space below the seat. So why not use that space as storage?
I came across these types of benches when doing furniture shopping last year. I have them both at the entryway in my house for my personal use. And another bench in the home gym for my workout shoes and knickknacks.
9) Invest in a Cabinet or Locker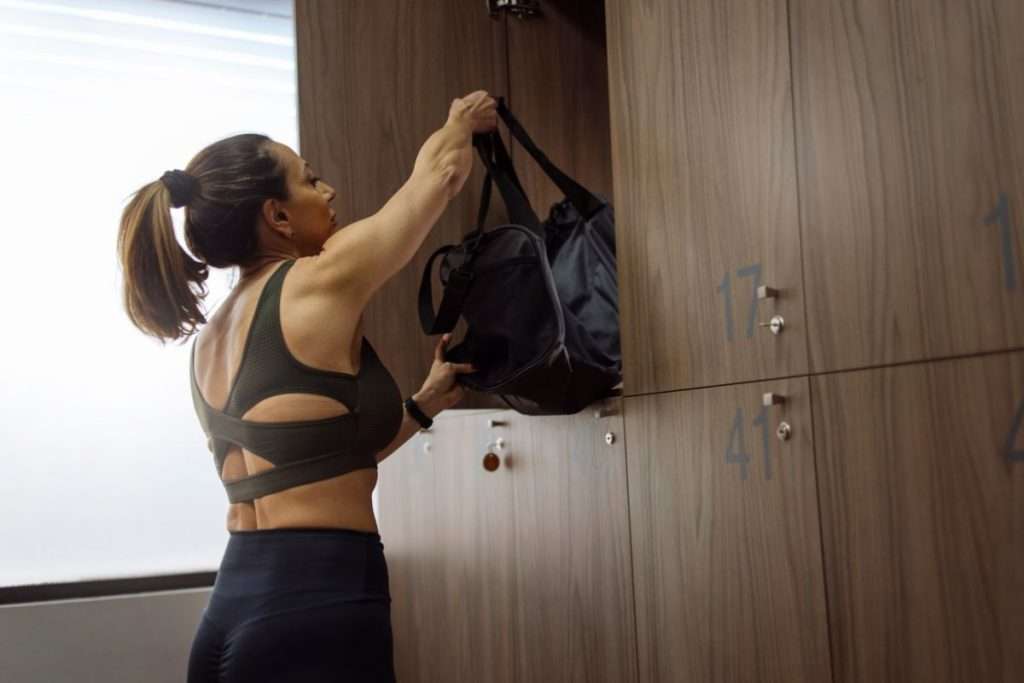 If you have various equipment, invest in a cabinet with shelves and compartments to keep everything behind closed doors and maintain a clean and uncluttered look.
This may take up some space and budget, but I can say it is worth it if you can keep your hard-earned equipment in a safer place.
10) Mount Your Equipment
You can securely mount big equipment like cable machines, pull-up bars or punch bags on the wall or ceiling. This storage idea saves you space and adds visual interest to your gym setup.
Also, instead of buying a floor or standing fan for your home gym. You can invest in a wall-mounted or ceiling fan to keep you cool during your workouts.
11) Use Overhead Storage
Overlooked ceiling space is prime real estate for storage. Install overhead racks to keep light items like stability balls, mats, and suspension trainers.
I wouldn't recommend overhead racks for heavy items, though. It's not safe to store heavy items on your ceiling because of the risk of falling.
12) Use a Medicine Ball Rack
Like dumbbell trees, a dedicated tree-like stand for your medicine balls keeps them in place and adds a splash of order to your gym corner.
What to do next?
These home gym storage ideas will help you keep your gym area organized and tidy. Use this list to pick the best storage solution for your home gym, then get busy making it happen.
If you need help setting up your home gym, the following guides will surely be of help: